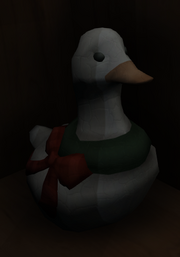 Christmas Duck is an avian-styled holiday decoration that is stored in a cabinet on the front porch.
If it is picked up, it becomes "Good ol' Christmas Duck."
It cost $5.99.
Background
Edit
Spoiler warning!
This article contains plot details about an upcoming episode.
A copy of the front door key is under the duck.
The change to the interaction text after it is picked up -- "Good ol' Christmas Duck" -- suggests that hiding a key under the same duck is a constant in her family that Katie is familiar with and was likely used at their previous house.
The duck can be freely rotated in six axes.
Ad blocker interference detected!
Wikia is a free-to-use site that makes money from advertising. We have a modified experience for viewers using ad blockers

Wikia is not accessible if you've made further modifications. Remove the custom ad blocker rule(s) and the page will load as expected.