Welcome to the Gone Home Wiki
Gone Home is a story exploration video game set in 1995. The game is developed by The Fullbright Company and was released in August 15th, 2013.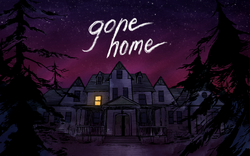 Gone Home
is an indie story/exploration game developed by The Fullbright Company in which the player must explore to discover where the rest of the Greenbriar family has gone.
Loading RSS data...
Create blog post



Level Design in a Day: The Level Design of Gone Home

Speakers: Kate Craig (Fullbright), Steve Gaynor (Fullbright)

Gone Home is a subtle, nuanced game that defies a lot of the video game industry standards about what players expect from games. Many gamers accused it of being too short, or even a "walk…

Read more >

As a part of Holiday Know Days, we are kicking off an exciting Community Choice Awards event for Gaming. The 2013 year has brought us plenty of amazing times, and now it's time to separate the best from the rest. The nominations for this year have been announced, and now it's to up to you, the users…

Read more >
See more >
Ad blocker interference detected!
Wikia is a free-to-use site that makes money from advertising. We have a modified experience for viewers using ad blockers

Wikia is not accessible if you've made further modifications. Remove the custom ad blocker rule(s) and the page will load as expected.