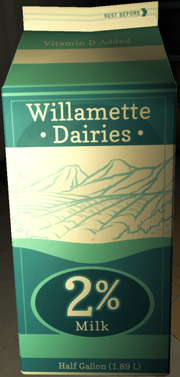 The Greenbriars drink Willamette Dairies 2% Milk. The name "Willamette" (pronounced will-am-it) is a nod to the story's general location in west-central Oregon, and is either named after the Willamette River , which runs from Portland , to Salem , to Eugene , or the Willamette Valley , which surrounds the river. According to the carton, their milk comes from Salem, and is Vitamin D fortified.
In the game
Edit
An empty carton, which looks unopened, can be found in the recycling bin in the garage. Milk cartons weren't widely recyclable in the mid 1990s. The milk carton also has no expiration date. 
Ad blocker interference detected!
Wikia is a free-to-use site that makes money from advertising. We have a modified experience for viewers using ad blockers

Wikia is not accessible if you've made further modifications. Remove the custom ad blocker rule(s) and the page will load as expected.