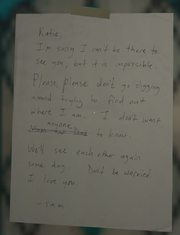 The
Note
found pinned to the front door of the house is the first note from
Sam
encountered by
the player
.
Katie,
I'm sorry I can't be there to see you, but it is impossible. Please, please don't go digging around trying to find out where I am. I don't want Mom and Dad anyone to know. We'll see each other again some day. Don't be worried. I love you.
―Sam
Ad blocker interference detected!
Wikia is a free-to-use site that makes money from advertising. We have a modified experience for viewers using ad blockers

Wikia is not accessible if you've made further modifications. Remove the custom ad blocker rule(s) and the page will load as expected.